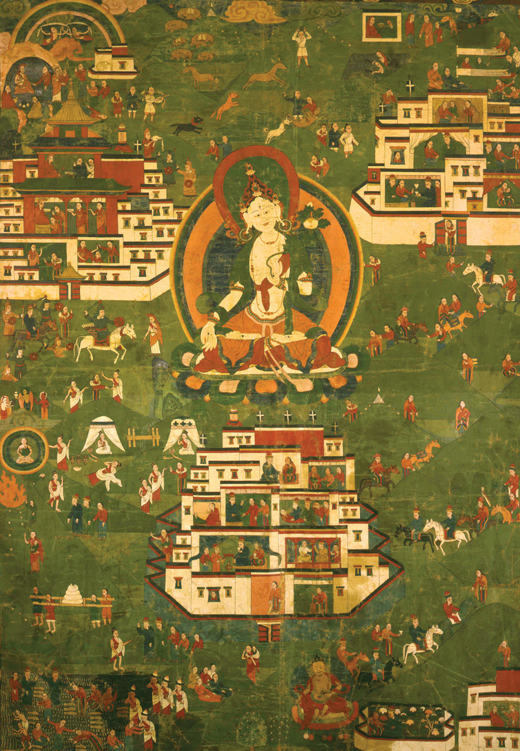 FIG. 10
The Story of Nangsa Woebum; Tibet; ca. 19th century; Pigments on cloth;
51 1/5 x 31 1/2 in. (130 x 80 cm); Collection of R. R. E.
Conclusion
All the themes of Tibetan narratives and the forms in which they are presented, received, performed, and reproduced explored in the exhibition connect through the subjects of their stories. Some themes, such as those found in legendary lives of the Buddha, rematerialize as part of a narrative about the Tibetan cultural hero, an Indian master involved in Tibet's conversion to Buddhism. This master's life story is closely tied to narratives about Tibetan Buddhist kings and their special relationship to Tibet's patron deity. All of these narratives played an important role in the development of the Tibetans' cultural identity and, in turn, informed their artistic expressions. It is not surprising then to find elements of an ancient Indian morality tale in a popular Tibetan drama, next to themes with inspiring and hopeful outcomes rooted in Tibetan reality. The rich narrative Himalayan traditions are loved in all Tibetan cultural regions. This exhibition hopes to bring these narratives to a shared forum of global storytelling in a continuing effort to relate and create Himalayan narratives.