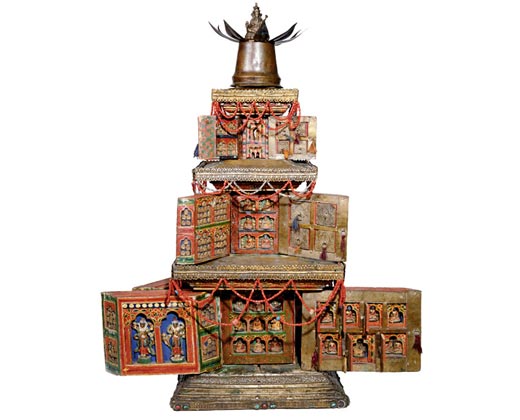 FIG. 6
Portable Mani Shrine (Tashi Gomang) of Copper Palace of Padmasambhava Bhutan;
18th–19th century; Painted and gilded wood, clay; 30 1/8 x 12 x 12 in.
(76.517 x 30.48 x 30.48 cm); Private Collection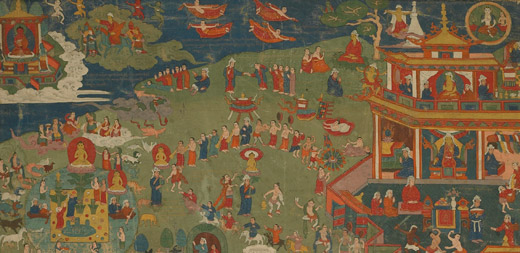 FIG. 7
Life Story of Padmasambhava (detail); Tibet; 19th century; Pigments on cloth;
40 3/4 x 26 3/8 in. (103.5 x 66.99 cm); Rubin Museum of Art; C2007.16.1 (HAR 81832)
Miraculous Accomplishments, Divine Interventions, and Personal Dramas
A picture is worth a hundred songs.
In Tibetan culture, involvement with and aesthetic appreciation of the art is most direct when it is used in narrative performances by traveling storytellers (lama mani). The stories performed by these itinerant storytellers in front of paintings and special portable shrines (see FIG. 6) are usually well-known versions of the legendary achievements of famous religious masters and mythologized historical personages who are generally considered emanations of deities.
Among such popular stories is the life of the Indian master Padmasambhava, also known as Guru Rinpoche (The Precious Teacher, FIG. 7). In addition to his miraculous birth and amazing life full of magical feats that preceded his journey to Tibet, he is also traditionally credited with playing a major role in the conversion of Tibet to Buddhism. This popular narrative, in turn, is closely related to Tibetan imperial historiographies that portray King Trisong Detsen (742–796 CE) as an emanation of Avalokiteshvara, the patron deity of Tibet (FIG. 8), and an enlightened ruler responsible for making Buddhism the state religion. Early Tibetan histories echoed in popular narratives also describe this king as the principal disciple of Padmasambhava and resolute Buddhist patron who invited the famous Indian master Shantarakshita (8th century), the abbot of the glorious Nalanda Monastery to Tibet, to teach and establish a monastic tradition (FIG. 9). According to mythologized accounts, Shantarakshita, with the help of Padmasambhava, who magically subdued indigenous Tibetan gods and converted them to Buddhist faith, oversaw the construction of the first Tibetan Buddhist temple of Samye.