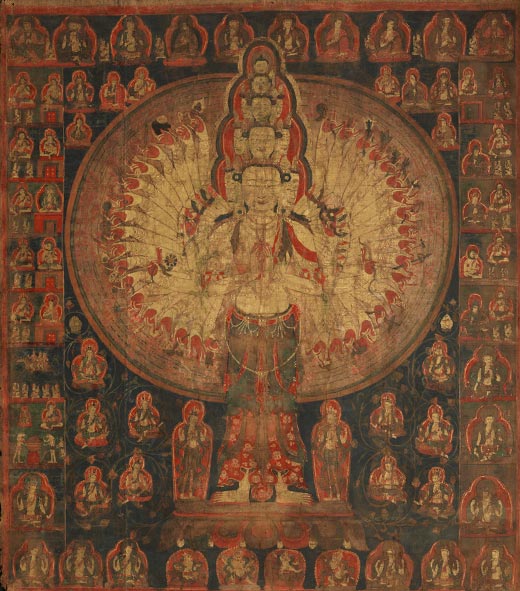 FIG. 8
One Thousand-Armed Avalokiteshvara; Tibet; 14th–15th century; Pigments on cloth;
55 x 49 1/4 in.; (139.7 x 125.95 cm); Rubin Museum of Art; C2006.66.178 (HAR 190)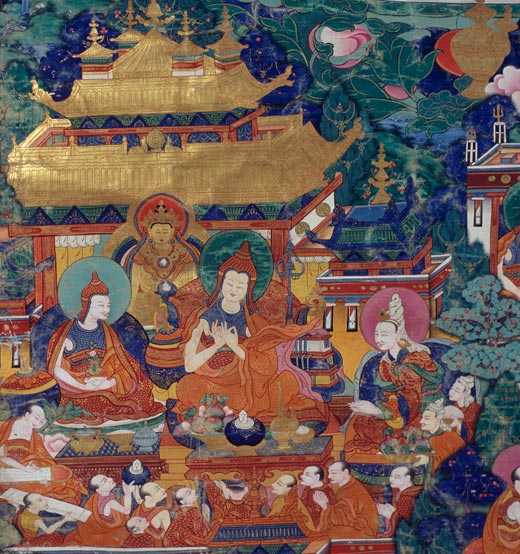 FIG. 9
Shantarkshita (active 8th century) and Scenes of His Life in Tibet (detail); Tibet; 19th century;
Pigments on cloth; 71 W x 41 W in. (181.289 x 105.092 cm); Rubin Museum of Art;
C2007.22.1 (HAR65798)
Miraculous Accomplishments, Divine Interventions, and Personal Dramas
Continued
Padmasambhava's life story revealed by his Tibetan disciples tells that after his time in Tibet he departed to the land of flesh-eating demons (rakshasa) to subdue them and instruct them in Buddhist teachings. Since then he has dwelled there, in a palace on the Copper-colored Mountain (FIG. 6).
Other important subjects of the itinerant storytellers' repertoire were adaptations of various tales from the stories of the previous lives of the Buddha (jatakas) and stories of the virtuous deeds (avadanas) as well as original Tibetan romanticized moral narratives.
The story of a beautiful girl called Nangsa Woebum is both a moral tale often performed by lama manis and a popular Tibetan opera (FIG. 10).
Nangsa is said to be an emanation of Tara, the deity most beloved by Tibetans. Her life story is set in actual locations in central or western Tibet. The narrative, interspersed with songs, combines authentic elements of Tibetan daily life. An unhappy woman who has been forced into marriage suffers terrible injustice from her husband's family and dies of grief only to be returned to life by the Lord of Death, because of her good karma and to continue her virtuous existence. She then meets a Buddhist teacher, becomes a nun, practices Buddhism, and eventually converts the very people who had done her harm, instilling faith and making them into Buddhist practitioners.